Class System
There are eight classes of four-year daytime program, four classes of four-year continuing education program, two classes of two-year in-service education program for undergraduate students. The master program in International Tourism and MICE Industry started from 2015.
Goals and Development of Undergraduate Program
The Department's educational objectives are to lay the students' basic language skills and develop students' professional knowledge and professional foreign language application skills, and to develop practical talents with international competitiveness, creative thinking, humanistic qualities and international outlook. The department's foreign language education is mainly in English, and the second language is supplemented. The first and second year courses focus on basic language education. Grouping professional courses are arranged from the second year. The professional fields are divided into "Tourism and Conventions" and "English Teaching." Each professional field takes into account the students' professional knowledge, scientific and technological capabilities, professional ethics and humanistic qualities. The second foreign language includes learning in languages such as Japanese, Spanish, and French. The department has comprehensively promoted the specialization ability required for students' professional and combination of industrial practice applications. Practical courses also invited industry practice experts to conduct collaborative teaching.
To meet the internationalization needs of the nation's knowledge-based economy, the courses are all aimed at cultivating students with foreign language proficiency, communication skills, professional knowledge, teamwork spirit, planning management skills, leadership skills, and lifelong learning. The Foreign Language Self-Study Center offers a variety of language learning software, foreign language consulting, writing diagnosis and treatment, and various foreign language learning courses and competitions. Students can conduct autonomous learning. In addition, students are actively coached to obtain foreign language, computer software applications and related certificates or licenses to meet the talent needs of the industry. In recent years, the department has defined the development direction of five key features, including cross-domain diversified learning, international academic exchanges, industry-university cooperation and internships, professional volunteers and service learning, and multi-licensing. It is hoped that this will help students to expand their international perspectives and demonstrate humanistic care spirit, gain internship experience, and develop second expertise.
Curriculum Planning of Undergraduate Program
A four-year coherent curriculum has been planned to implement students' language skills in listening, speaking, reading, writing and translating. The professional fields are divided into "English Teaching Group" and "Business and Exhibition Group." The content includes professional basic concepts, application ability of knowledge and professional knowledge, ability to cultivate innovation, problem research, data collection and analysis, file management, etc., and strengthen teamwork ability and cultivate professional ethical knowledge to provide the best channels for further studies and employment in the future. The second foreign language includes learning Japanese, Spanish, and French. A cooperative project is designed to guide students to obtain practical internship opportunities. Professional volunteer service learning leads students to serve and demonstrate the spirit of humanistic care. Overseas study and exchange of student opportunities can expand their international horizons and foster world outlook.
Future Work Opportunities of Undergraduate Students
Graduates of this department are very much welcomed and affirmed by the industry. Students are all engaged in language-related careers such as junior high school and children's American language teachers in the supplementary education industry, secretarial or administrative assistants in the corporate sector, tour leaders or tour guides. This Department also prepares students for further study. There are a large number of students studying graduate programs at home and abroad.
Foreign Language Recitation Contest
English News Broadcast Competition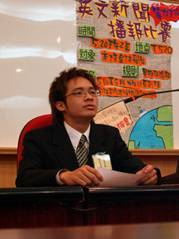 Talk Show Contest
Presentation of Student Projects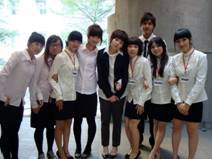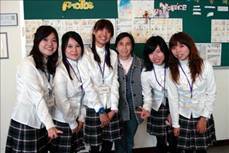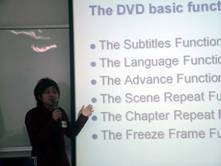 Graduation Plays